July 22nd, 2010
The Annapurna circuit trek is one of the world's most famous hiking trails and one of the many reasons travellers come to Nepal. The thing you definitely need when you want to do this hike is a decent Annapurna circuit trek map.
To the use of other travellers who are planning a trip through this amazing part of Nepal I made some pictures of our Annapurna circuit trek map, although in peaces which can be of help.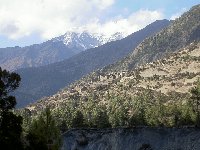 Tourism Annapurna
The sizes of the map peaces differ but every map has a starting and finishing point covering the place of departure with a blue flag and the city or town of arrival with a green flag.
The places we travelled to within the Annapurna circuit include Besi Sahar, Ngadi, Dherapani, Chame, Pisang, Manang, Yak Charta, Thorang Phedi, Muktinah, Jomosom, Marpha, Tukuche, Upalla Lete, Ghasa, Dana, Tatopani, Ghorapani, Birethanti, Nagdanda and Pokhara, a beautiful city to finish the Annapurna circuit trek.
In Pokhara there are some beautiful stupas and temples to admire. The other places all have their charm and the Annapurna circuit will definitely be a unique travel experience. For more information check out my pictures and maps!