April 11th, 2010
We just love visiting New Zealand every year if possible.. It just has so much magic moments every turn in the road...
You need at least 4 weeks for each island.. but we do it in sections over a period of 10 days each time.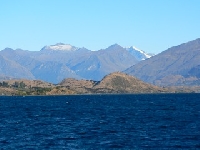 Views across from Wanaka -..
Queenstown, is breath taking and we selected a place with spa and views. Day trips and boat trips are a must.. and an extra couple of days to see the fiords and Franz Joseph Glaciers.
The day before our flight out we stayed at the hot springs for a relaxing time and a lazy drive back to Christchurch. Still one of my favourite places is Wanaka.
We shall return.