August 25th, 2010
After our loopdrive from Te Anau to Milford Sound and back we headed to Queenstown, one of the touristic getaway cities on New Zealand's South Island.
Queenstown was built on Queenstown Bay and still draws many tourists for its proximity to the stunning Lake Wakatipu which is beautifully placed north of the Remarkable Mountains.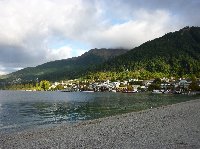 Where to go in Queenstown
Lake Wakatipu attracts a lot of adventure seeking tourists as all kinds of activities and tours can be arranged from snow sports like skiing, snowboarding and snow tubbing to mountain biking, sky diving and hiking.
For the less adventurous visitors there's always Queentown's Skyline Gondola service, a cable car, or gondola aerial lift, that will take you up and down the hills overlooking the george Queentown Bay and its surroundings.
For those who want to take the ride one step further there's the Skyline Luge. A luge is a sort of sled on which you're supposed to lie down, feet facing forward and steering gear on the left and the ride of the sled which can be operated by hand while lying down. Well, this all looked fun but we still had a lot of New Zealand to see so we stuck with the Skyline Gondola.