April 13th, 2010
Yangon is the capital of Myanmar and as soon as we arrived at the airport we were welcomed by our travel guide.
We stayed at the Summit Park View Hotel which is beautiful and we can even see the Shwedagon Pagode from here!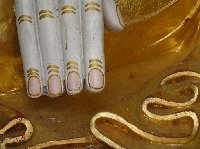 The painted nails of the..
The weather is great and we decided to spend our first day by exploring a bit of the city centre. It was about 30 degrees, perfect! The next day we went to visit the Shwedagon pagode, which is located on a hill top.
From up here the view is amazing in either direction and it's an amazing sight when the sunlight reflects on the golden stupas. There are four entrances to get to the top, three of them have an elevator and one has an escalator.
We were so impressed by the beauty of the Shwedagon Pagode that we decided to return that same night to enjoy the view by night. It was like we were in a fairy tail surrounded by bright colours, golden shrines and smiling people. An amazing experience!
We also visited the 17 m tall and 70 m long reclining Buddha of Yangon, did some shopping at the local markets and tried all kinds of local dishes in Chinatown. Here you'll find all kinds of delicious food, grilled on the bbq while you wait!