April 13th, 2010
Bagan is known for its gorgeous pagoda's which are located in this beautiful green landscape.
The best way to see the pagoda's and temples of Bagan is by hot air balloon and the balloon flight in Bagan are very popular with tourists visiting this part of Myanmar.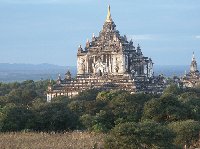 Hot air balloon flight over..
We decide to book a balloon flight which turned out to be an amazing experience!
From the ground you're able to see all the detailled decoration of the temples which is beautiful but flying over them gives this area a whole different dimension and I would really recommend it!
The flight took off at 6.30 am and it was very impressive fly over Bagan this early in the morning. After a 45 minute flight we landed perfectly and were treated to a champagne and croissants breakfast, our day couldn't have started in a better way!
In the afternoon we visited some other temples, took a boat ride on the Ayeyarwady river and we enjoyed a nice massage to end this perfect day in a state of complete zen.