March 24th, 2010
My trip to Burma was quite special and I managed to see a lot of the country travelling from the South to the North. Visiting the different villages was amazing and the people were so friendly, always welcoming you with a smile.
The landscapes of Burma, or Myanmar, seem to take you back in time and take your breath away with its million colours.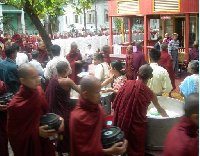 Monks in Amarapura coming..
Some of the places I travelled to are Amarapura, Bagan, Mandalay in Central Burma and Yangon more in the South.
Unfortunately most wonders are owned by Mother Nature leaving the country with a bad developed infrastructure and almost antique public transport services.
Getting around the country usually involves taking a domestic flight because trains and buses aren't always the most comfortable way of travelling.
Burma has a lot to offer though and attracts tourists with her beautiful pagoda's, uncontaminated landscapes and nice warm climate.
The villages located more inland, and far from the typical touristic routes, display the traditions of the Burmese people in their true forms and are really worth the trip.
Burma to me had been an amazing journey and a country locked in my heart forever.