April 13th, 2010
Ile de Goree is a beautiful island near Dakar which unfortunately was known too long for its brutal past. Today the island is showing a different side and many tourists are willing to explore the local grounds.
The island of Ile de Goree was known as one of the first European settlements to play a big role in the Atlantic slave trade, a past which is still visible today.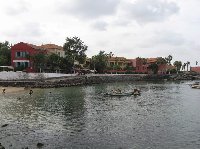 From Dakar to Ile de Goree,..
Ile de Goree houses La Maison des Esclaves, the former Slave House which was built by the Dutch in 1776.
La Maison des Esclaves functioned as a depot for slaves awaiting the brutal and inhuman treatment and transport by slavers and their ships sitting off the coast of Dakar.
Today the building has turned into a museum dedicated to the victims of these atrocities and visitors to the island can see for themselves how Ile de Goree became the place it is today.
A bronze sculpture and a memorial statue of the liberation of slavery sent from the West Indies reminds us of the past but also of a newborn Ile de Goree.
The people here are strong, friendly and proud of their beautiful island and they have all the rights to be proud! The narrow streets of Ile de Goree are very characteristic, the local markets great for souvenir shopping and the local food exquisit.
Today the colourful mixture of colonial buildings and flowering bougainvillea gives the streetview of Ile de Goree something to be proud of and it's no wonder the island was added to the heritage list of UNESCO. Ile de Goree, the secret is officially out!