April 14th, 2010
Bukhara is the capital of the Bukhara Province near the Uzbekistan-Turkmenistan border and located on the Silk Road which connects the most important trade points of the Asian Continent.
Bukhara which today is part of Uzbekistan used to carry the name Sogdania as part of this mighty Asian empire. The Silk Road ran all the way to Europe to trade it's most precious product; chinese silk.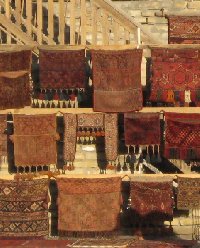 Uzbekistan rugs and carpets..
A lot of tourists enjoy travelling along the Silk Road to rediscover these ancient chinese commercial centres which now belong to countries like Uzbekistan.
Bukhara has a beautiful historical centre and a lot of people travelling to Uzbekistan, make sure they visit the Mir-i Arab madrasah Mosque.
This mosque is the most important touristic attraction in Bukhara and an important place of worship for the Uzbekistan people. The Mir-i Arab madrasah Mosque has two blue domes of the medressa which are beautifully tiled and stand out in the centre of Bukhara.
Thanks to the beauty of mosques like the Mir-i Arab madrasah the historic city centre of Bukhara has been listed as a UNESCO world heritage site and the city has become a popular travel destination of travellers in Uzbekistan.