April 18th, 2010
The Chobe National Park is the best place to spot elephants and an enormous game-reserve where you can do some great safari tours.
Touring over the Chobe River you can spot all kinds of wildlife on the river banks and you can count on some curious elephants, crocs and hippo's which come here to drink, hunt and chew on water plants.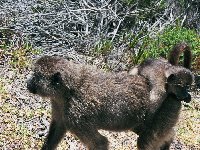 Mom and baby baboon in..
Most Safari Tours depart from Kasane, a town located on the Chobe River.
A good alternative is the Moremi Wildlife Reserve which borders with the Chobe National Park and is located more to the south west of Botswana.
These safari tours often include a tour to the swamps of the Okavango Delta, especially when you're doing a safari excursion to the Moremi Wildlife Reserve which rests on the on the eastern side of the Okavango Delta.
The waters of the Delta cover the largest part of the Moremi National Park which makes it very easy to cruise over the waters and observe the animals on the mainland of the game reserve.