August 14th, 2010
From the Victoria Falls in Zimbabwe en Zambia we moved to Botswana where we went to visit the Chobe National Park, one of Africa's largest national parks and a great game resever to go on a wildlife safari.
The Chobe National Park might not be the largest game reserve in Botswana but it's a very popular one for its great variety of wildlife and good safari tours.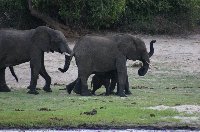 Travel Experience Kasane
During our jeep safari we spotted a lot of different animals from elephants and hippo's to crodiles, lions and leopards.
It was an amazing time out and a great opportunity to learn more about this part of Northeast Botswana.
The great thing about the Chobe National Park is that is can be divided into four areas with all different habitats and wildlife. The Serondela area, also known as the Chobe Riverfront, is the nearest to the Victoria Falls and the first area we travelled through.
The Linyanti Marsh, the Northwestern part of the Chobe National Park is a very good place to head to for a high concentration of wildlife and most safari tours come here to spot the animals we have seen.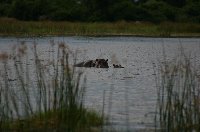 Travel Experience Kasane
In any case your visit to the Chobe National Park will be memorable as the landscape is stunning and chances are very high to encounter wildlife on the various safari tours.
From Kasane which is located north of the Chobe National Park we went to Maun, one of the largest cities of Botswana and the place to be for trips above the Delta Plane. Maun is the place where the headquarters of all air charters are located and also from where we had our first air safari over the Delta.