April 20th, 2010
The Murree Hills are located in the north of Pakistan and known as country's most popular hill station.
The town of Murree can be easily reached from the capital of Islamabad, about an hour and a half by car, and most residents of head to the hills during their holidays.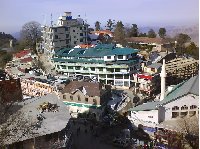 Pictures of Murree, Pakistan
Eventhough Murree is a popular summer resort with the Pakistani people living in Islamabad it's a beautiful place to visit in other times of the year aswell.
In summer temperatures can rise a lot in the north of Pakistan and most people prefer heading to the hills to avoid the pressing heat. Especially around August Murree is packed with tourists and booking ahead can be wise.
In Murree you will find all kinds of resort facilities like playgrounds, restaurants, hotels and even a chair lift and cable car system for transportation to the highest point.
We drove through the Murree Hills in wintertime, during the last week of February and I must say that the panorama's were amazing!
You can do some sort of excursion by taxi but I would strongly recommend heading to the hills with a jeep, land rover or other type of 4WD vehicle because the tracks can be pretty rough.