September 15th, 2011
The K2 the world's second-highest mountain on earth is part of the Karakoram Range which lies parly in Pakistan and partly in China with the last itinerary being the hardest one.
The Gilgit-Baltistan area is the more common route for K2 Mountain treks as it is less hazardous alternative for reaching the peak of 28,251 feet! Only Mt. Everest is higher.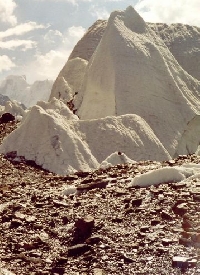 Travel Blog Gilgit-Baltistan
This is definately a trek that is to be taken very serious and only accessibile for professional hikers with above average health conditions.
I was lucky enough to be one of those men and completed my trek up against K2 passing through the Gilgit-Baltistan area ten years ago in 2001.
The experience was amazing and I must say that there hasn't been anything like it on any of my travels since but I also feel that you should never travel the same itinerary twice.
The K2 trek took me and my team to the center of the Karakoram along the Baltoro glacier to Concordia where the four highest mountains of the range come together. The conditions were more than harsh at times but the views always magnificient.
If you're an adventurous traveller with a passion for nature than this might be the trek of a lifetime. If you're a beach holiday kind of person this could be your worst nightmare:)
I added two pictures of Lahore south of the Gilgit-Baltistan area as well. After the experience of reaching the peak I travelled back to Lahore where I had started my journey by truck, (see picture) to fly back home.