May 21st, 2010
Minsk is the capital of Belarus and another city we visited on our way east. As soon as we arrived we noticed the imposing buildings which are a result of the Stalinist architecture style and characteristic for the city centre of Minsk.
The Railway station square is a good example of this Stalinist architecture and its enormous towers form a gate to the capital.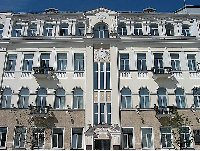 Travel Guide Minsk
Other impressive buildings include the Minsk City Hall, the National Art Museum, the KGB Building but also sacred places like the Russian Othodoc Cathedral of the Holy Spirit and the Catholic Cathedral of the Saint Virgin Mary.
During our stay in Minsk these two weren't the only cathedrals we came across and we also visited the Orthodox churches of Sts. Peter and Paul, the Cathedral of St. Joseph and a beautiful red church on Independence Square.
From the Old Town of Minsk you can reach the Island of Tears by a footbrigde. Here you'll find a monument which was set op to commemorate the soldiers who died in the war in Afghanistan and which ended in 1988. The monument displays the statues of the grieving Belarusian mothers.
From the Island of Tears you will have a beautiful panorama of the river Svisloch and the city of Minsk with the Cathedral of the Holy Spirit dominating its waterfront.