June 10th, 2010
In October of 2009 I went to Cote d'Ivoire with my husband to visit some of his relatives who live in Abidjan, the former capital of Cote d'Ivoire and the largest city in the country.
Besides Abidjan we also visited Yamoussoukro, the present capital of Cote d'Ivoire which is located north of Abidjan south of Lac de Kossou in the centre of the country.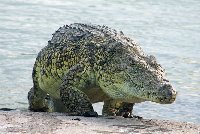 Tours Abidjan
Eventhough we spend a lot with my husbands family we also managed so see quite a lot of both cities and I must say that both cities, former capital Abidjan and Yamoussoukro alike appealed to me, the first for its friendly people and the nice beaches and the second for its amazing Basilica of Our Lady of Peace of Yamoussoukro, a gorgeous Roman Catholic Basilica.
Walking around the Basilica of Our Lady of Peace of Yamoussoukro made me realize how great contrasts can be in countries like Cote d'Ivoire and moving from an African Vatican City with a beautiful plaza and a gorgeous stained glass dome to the townships surrounding the center of the city was impressive.
The people we met were always very friendly and eager to talk to us which for me was really special. I loved visiting the markets in Abidjan and Yamoussoukro with its tasty fruit and curious stands.
Southeast of Abidjan we wento to Grand Bassam where you'll find Cote d'Ivoire finest beaches and for us it was a great way to escape the big city during the weekends.