September 17th, 2011
Here are some pictures of a place called Assinie-Mafia in Cote d'Ivoire where many years ago I was lucky enough to meet my husband.
Once every two years we book a trip here to visit my husband's family and keep in touch with his friends and former collegues.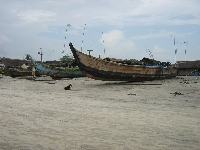 Travel Assinie-Mafia
Assinie-Mafia is a small town near the capital city of Abidjan and you could easily visit both during a holiday. We love going to the beach with the family or enjoy the fresh seafood which is caught early in the morning so you can not get it any better!
Make sure to avoid the wet season running from June to October which we unfortunately were not able to do because of school holidays of our kids but if you can travel between November and May and you will enjoy your time in Cote d'Ivoire even more!