June 21st, 2010
I went to Seoul in December which is wintertime in South Korea as well and maybe if you're looking for a warm and cosy holiday not the perfect season.
When to go to Seoul then? Well, there are four seasons which can be very distinct and different. I guess the best time to visit South Korea would be autumn, from September to November, when the temperatures are still high and the climate mild, definitely not as cold as in December.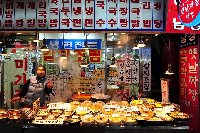 Tourism Seoul
The same thing accounts fro Spring time which is maybe even better because of the beautiful city sites dominated by blossoming cherry trees, just google Seoul in Springtime for some amazing pictures. Like in autumn the climate is mild and there will be a lot of sunny days.
Summer time is busy and of course rates go up so one of the above described seasons to go to South Korea would be better. But eventhough my plans worked out differently I had a great time in South Korea and Seoul is an amazing city to visit!
I took a lot of pictures during my city trip and I must say that the photos of Seoul covered in snow is something magical and it made the trip even more special for me.