November 1st, 2010
Once a year my family goes on a holiday to South Korea as me and my younger sister were adopted and born there. My parents decided to go on these trips to make sure we never forget where we come from.
This way the family always carries a bit of South Korea with it! For me personally the best season to visit Seoul is either in Springtime or early Autumn when the trees show their most beautiful colours.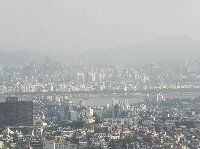 Where to go in Seoul
Seoul has some great tourist attractions but if you're looking for a great city view you have to get to the Namsan Tower which is located right on the peak of Mount Namsan and offers great views of downtown Seoul's skyline.
The grounds where the Namsan Towers stands upon is filled with love trees where couples from all over South Korea and who knows the world have chained locks with their names and love poems on it to a tree made of iron.
Today the trees are filled with colourful locks in all possibile shapes turning Mount Namsan in a memorial dedicated to all lovers all over the world. You can even choose to take a ride on the Namsan cable car if you want to get even closer to downtown Seoul!
Another nice place to visit in Seoul would be the Jogyesa Temple which is one of the most important sacred sites for Korean Buddhism and located in Central Seoul.