June 21st, 2010
Last January we travelled from the US to Iran to make a trip through the country and visit the most important cities and sites.
From the USA it took us about 24 hours to get from New York to Tehran, the capital of Iran, and we paid about 1000 dollars for our ticket flying with Qatar Airlines. There was no direct flight available so we had to make a stop in Doha, Qatar.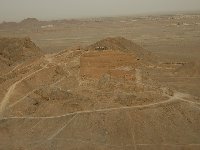 Travel Blog Tehran
So the travel time to get to Iran was pretty much and I don't remember doing very much on our first day in Tehran.
We used the first few days to relax and overcome our travel jet lag while sightseeing Tehran. Then we decided to rent a car and drive to some of Iran's most popular travel cities like Mashhad, Isfahan, Shiraz, Karai and Tabriz how all had their charme and interesting features.
Some of the things that stuck with me while travelling through Iran were the many beautiful mosques like the amazing mosques in Isfahan. Also the rural sites out of the cities were impressing like the Persian archeological finds in Persepolis near Shiraz or the ancient city of Tous.
Our journey through Iran is one I will remember forever as for its uniqueness, the kindness of its people and the stunning landscapes.