December 15th, 2010
After a long flight with Iran Air we had arrived in Tehran, the capital of Iran and the destination of our winter holidays. At least once a year my parents plan their family visit in Iran but heading their in december was a first timer.
Tehran in winter time is beautiful with the imposing white Alborz Mountains in the background, turning the entire range into one big ski resort with many tourists coming from all over the world.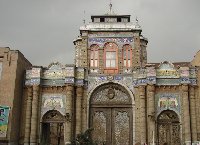 Tourism Tehran
The Dizin Ski Resort to the north of Tehran is a popular example, especially because of its great altitude which enable the resort to prolongue their ski season untill May.
Downtown Tehran on the other hand can be quite hectic and the traffic is pretty intense. A good and healthy way to travel is by metro but there are also plenty of bus stops where you can hop on and off.
Some of the main attractions in Tehran include the Milad Tower, the tallest in Iran, the Bagh-Melli gates and the Azadi Stadium, Iran's national stadium and the largest in the Middle East.