July 19th, 2010
Hoi An is a popular stop on the backpackers trail and one of the places in Vietnam I travelled to.
Hoi An is known for its beautiful Old Town, or Ancient City quarter which has been added to the UNESCO World Heritage List for being an important port which helped Vietnam flourish in the 15th Century.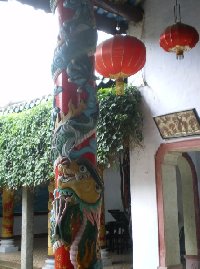 Travel Experience Hoi An
This old part of Hoi An is also a very popular spot and most tourists follow this trail of local vietnamese shops, old traiding buildings and some nice bars and restaurants on the waterfront of Hoi An.
The trail through the old quarter of Hoi An is described in any travel guide and it will be easy to find your way around. The Japanese Bridge is really beautiful and a typical landmark of the city. At night the traditional lanterns will help you find your way to the pittoresque waterfront.