July 20th, 2010
Bocas del Toro is the capital city of Isla Colon and gateway to the Bocas del Toro Archipelago which consists in a group of islands in the Caribbean Sea.
Isla Colon is located in northwest Panama and popular with tourists coming from Costa Rica or people who have been travelling through Panama.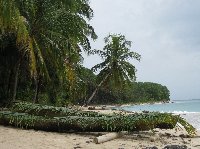 Holiday in Bocas del Toro
To get to Isla Colon and the district of Bocas del Toro you can travel by water taxi, ferry or a private boat.
Besides the main island of Isla Colon we visited Isla Bastimentos where we witnessed the first carnival preparations for Bocas del Toro. With a group of 6 people we rented a cabin at the waterfront which was perfect and with great views of the Caribbean Sea.
Looking down in the water you could actually see the starfish lying on the bottom of the sea! One of the morning rituals was to have breakfast on the porch, stare at the amazing few and feed the many fish swirling around our cabin.
We also visited the Bocas Butterfly Garden where we spotted some amazing butterfly species and gorgeous jungle flowers.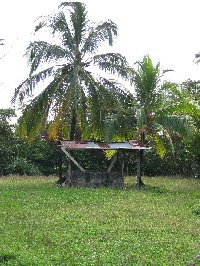 Holiday in Bocas del Toro
By boat we made a trip to Isla Zapatilla which was really nice and here the palm trees actually grew in the middle of the Caribbean Sea, incredible! Zapatilla Island isn't touristic at all and if you want to enjoy a true jungle island with beautiful white beaches, this is the place to visit. Just remember to go to the toilets before you hit the ferry because you won't find a lot of civilization here:)
Back in Bocas del Toro carnival had begun and we were ready for a party! During the day we relaxed on Starfish Beach and at night we all gathered for a typical Caribbean party in the streets of Bocas del Toro..what a holiday!