March 7th, 2011
Last week I came back from a trip to Panama City for business and I stayed there for a total of four days. My hotel was the Panama Marriott Hotel where generally speaking all the business trips to Panama City are booked at.
I had travelled to Panama City and stayed at the Marriott before so I knew I was in good hands since the staff is very friendly, the rooms nicely appointed and the bed is the best feature to it.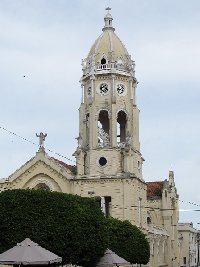 Vacation in Panama City
Especially when you're on business you need a good night's sleep after a long day of getting around in Panama City and I must say that the bed in my own home can't compete with the Marriott version!
They also have a cafe and bar downstairs where the food is very nice and there even is a casino next to it so you won't be bored in Panama City ever.
As for the city I did some sort of tourist activities (the Cinta Costera is beautiful and of course the San Francisco Church in the old quarter of Casco Viejo) but unfortunately my four-day stay was over before I knew it. Hopefully next time I will be able to enjoy a little bit more of Panama and maybe make a trip to the Panama Canal.