November 26th, 2010
The thing which I loved about Panama City on my stay there was the great contrast between modern society and old traditions.
On one side Panama City is the political and commercial center of Panama with buzzling Downtown Panama, skyscrapers representing the booming business sectors and yacht clubs breathing wealth and luxury while at the other side of town you can visit Casco Viejo the old city of Panama which will take you on a completely different ride.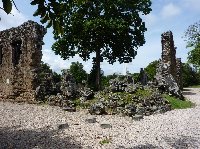 Travel Guide Panama
Casco Viejo is without a doubt the best touristic drawcard of Panama City and tourists from all over the world come here to experience the historical values of Panama City and of course the place where cultures came together and architecture breaths all kinds of styles mixed together from Caribbean and Colonial to Art Deco.
Doing a walking tour around Casco Viejo, or Casco Antiguo, is something that I would strongly recommend as the neighbourhood is so pittoresque and the atmosphere is very nice. There are some great bars in the old city center where you can sit down, taste an exotic cocktail while you admire the buildings around you.