July 21st, 2010
The Pendjari National Park in Benin is located north of Tanguieta from where you'll probably book your wildlife safari as the headquarters of the Pendjari National Park are found here.
The Pendjari National Park is situated in the northern part of Benin and borders with the Parc Nacional du W in Niger.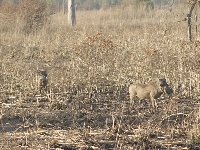 Vacation in Tanguieta
While the southern part of the Pendjari National Park lies within Benin borders the northern part of the park belongs to Burkina Faso but both countries will offer tours and safari's so that it becomes possible to visit both ends of the park.
There is a lot of wildlife to spot in the Pendjari National Park and chances are you will meet up with elephants,crocodiles, lions, buffalo's, monkeys, hippo's, exotic birds and other wildlife.
The safari jeep left Tanguieta around 5pm and entered the park little later. After about ten minutes we already encountered a large group of elephants which was spectacular and a great walk up call!