March 4th, 2011
The tour left our base camp near Tanguieta around 4 am. and entered the Pendjari National Park little later. It didn´t took our guide long to spot some fresh elephant footprints in the mud next our car and we got excited straight away.
The Pendjari National Park is the perfect place for wildlife spotting and during the safari we did see some beautiful animals like elephants, antelopes, buffalo´s, monkeys and even a lion, which unfortunately was to fast to catch on my camera.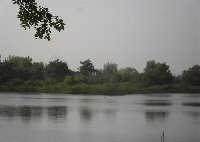 Travel Tanguieta
Our guide also provided us with some binoculars and a map of the national park so we could see where we were going and what kind of animals we could encounter.