August 4th, 2010
By train we travelled from Bangun to Yogyakarta, the former capital of Indonesia and now especially a city known for its fine arts like batik, wayang and theatre shows.
We all loved the train ride to Yogyakarta and especially the kids couldn't stop staring out of the train windows as the passed green rise fields and small villages.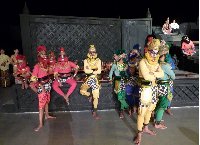 Trip to Yogyakarta
Inside the train there were people selling chips, drinks and all kinds of other snacks so we didn't have to pack food for on the way.
In Yogyakarta we stayed at a very lovely hotel called the Hotel Brongto which was a sort of villa in a tropical setting with palm trees and nice flowers.
After a good night's rest we started exploring Yogyakarta the next day and noticed right away that the traffic wasn't less chaotic on this side of Java!
After enjoying dinner is a local eatery we went to the Alun-alun of Yogyakarta. An Alun-alun is a combination between a main square and a large lawn but all the same it is a place of gathering for the locals and the tourists alike.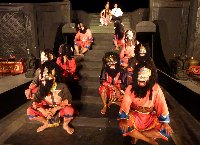 Trip to Yogyakarta
After a nice evening out we headed to a batik crafts shop the next morning. To get there we used a Becak which is a typical Indonesian cycle rickshaw and other than the motorized rickshaw completely human-powered.
The batik shop was really nice and the best thing was that we were just in time for a life demonstration of the batik techniques. Two ladies showed us exactly how the batik patterns are applied to the textile decorating it with all kinds of figures and flowers.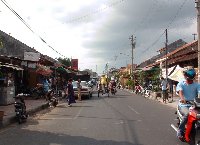 That evening we took a taxi to Prambahan which is located about 20 km east of Yogyakarta to visit a beautiful theatrical dance performance at the Prambahan Temple which is known as an important UNESCO world heritage site.
The Prambahan Temple is the largest Hindu temple in Indonesia and some amazing Hindu statues and architecture. The show was very elegant and intriguing, a great way to celebrate Yogyakarta and say goodbye to this beautiful city.