August 24th, 2010
I started my trip, together with my boyfriend, through New Zealand in Dunedin, one of the largest cities of the South Island and located on the east coast of the Otago Region.
Especially the area surrounding urban Dunedin to the easy is really beautiful along Otago Harbour with at the easternmost part of Dunedin the Otago Peninsula which was formed naturally after the eruption of the Dunedin Volcano.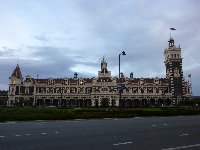 Trip to Dunedin
This area forms the natural habitat for a lot of beautiful and curious species like the penguin and the pinniped, a fin-footed mammal that is closely related to the fur seal, sea lion and walrus.
Also the inner city of Dunedin is definitely worth a sightseeing walk as you'll find a lot of interesting colonial buildings like the Dunedin Railway Station and of course Baldwin Street, the steepest street in the world!