November 26th, 2010
The Otago Peninsula is a beautiful region in the southern part of New Zealand and is located on South Island. A popular spot to head to in the Otago Region is Dunedin because of it's amazing and pure wildlife sites.
Out of my time in New Zealand, roadtripping with my two best mates, Dunedin was one of the places I liked the most for its great beaches and wildlife experience.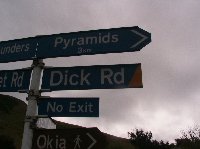 Trip to Dunedin
Near Dick Road and the Papanui Inlet you'll find a great beach where you can actually spot penguins and fur seals from not even a meter away!
I added some pictures of our stay in Dunedin, and I would reccomend anybody who's planning a trip to New Zealand to at least spend a day her to check out the animals because it really is something special.