September 2nd, 2010
After our stay in Santa Marta, Taganga and the Tayrona National Park we travelled south along Colombia's north coast towards Cartagena.
Cartagena is a very popular travel destination in Colombia and attracts many visitors with its fine beaches and interesting tours around the famous historic center.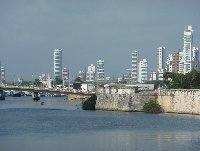 Travel Cartagena
One of the drawcards of Cartagena would be the tour of the fortress of San Felipe de Barajas from which you'll get a great panorama of Cartagena.
We toured the Panorama of Cartagena around 8 am in the morning when the larger groups of tourists were still on their way so we had all the time and space to discover the fortress by ourselves.
Of course you can also book a guided tour around it but we just packed our city travel guide and prefered to explore it the simple way.
After our visit at San Felipe de Barajas we entered downtown Cartagena for some sightseeing and headed for Getsemani, the suburban popular quarters of Cartagena.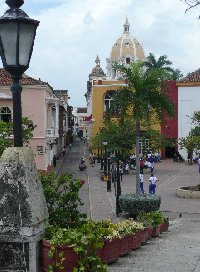 Travel Cartagena
From Getsemani we headed to Puerta del Reloj, also known as the Clock Gate, which formes the entrance to downtown Cartagena and leads to the sqaures of Plaza de los Coches and Plaza de la Aduana a few steps further.
We did our sightseeing tour by foot which was great and walking around we really had the time to take a look at the architecture and to take a peek at the smaller street shops and houses.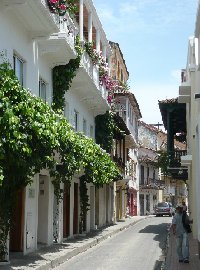 Downtown Cartagena is gorgeous and almost clear from traffic so we could really enjoy this walk through the city's old town.
We walked towards Plaza Bolivar and visited the Palacio de la Inquisicion which was quite interesting as we did a tour along all kinds of machines used by the Medieval Inquisition to torture prisoners.
Cartagena was also our final travel destination in Colombia so we decided to conclude our South American adventure with some fun day trips to the beach and the El Totumo Mud Volcano. Looking back we had an amazing time in both Colombia and Venezuela and I would love to go back there in the future.