February 28th, 2010
I went to Colombia to celebrate New Years Eve and after months of discussing the perfect travel destination me and my friends decided to book a flight and leave for Cartagena.
We had a direct flight from Miami to Cartagena which worked out great and getting closer to our destination we could see the amazing panormic views from our airplane window. The beautiful Caribbean Sea filled with dreamy islands..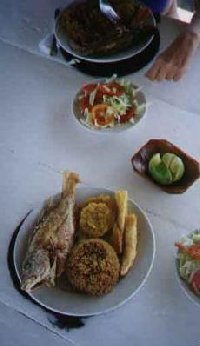 La Comida in Cartagena.
Cartagena is a beautiful place and looking around you can here the latin music, smell the fresh flowers and enjoy the sights of this city. At night we used to come together on the main square to have drink before going to dinner.
Breakfast in the morning was just as good as dinner in the evening and fresh fruit and drinks always included! The days spend on the beach were amazing and I could stare at the colours of the sea and the white umbrellas which seemed to dance at the rhythm of the wind all day.
The climate was perfect and how can I forget spending the first week of january underneath the warming sun!