October 11th, 2010
During a three week safari holiday in Tanzania, the Ngorongoro Crater was one of the many beautiful wildlife areas we visited.
The Ngorongoro Conservation Area lies west of Arusha where the crater highlands of Tanzania can be found and is often combined on a day trip to both places as they are popular safari destinations.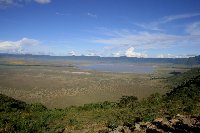 Travel Experience Ngorongoro
The view of the Ngorongoro Crater and the entire area was mind blowing and on a clear day in the middle in May when the blossoming flowers color the valley all yello this place is not just a paradise for wildlife lovers.
May is also a good period to visit because of the great Wildebeest Migration which takes place around this time of year and will give you the opportunity to follow all kinds of wildlife on their journey to the Serengeti.
From the viewpoint looking down on Ngorongoro we actually moved inside the crater where we gazed at the scenery and of course the animals during a wildlife jeep safari through the crater.
The safari was amazing and we spotted a lot of animals from nearby. I added some pictures to give you an idea of live in the Ngorongoro crater and if you're planning a trip there I'm sure you'll have an amazing time!