November 21st, 2010
Zanzibar Island, the best place in Africa! What a holiday of complete relaxation and luxury..We spend 14 days at the Karafuu Hotel Beach Resort and didn't want to leave!
This amazing beach resort is located on the west coast of Zanzibar and lies north of Zanzibar City, a perfect location on the beach but just a ride away from the town centre.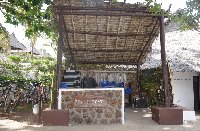 Travel Blog Zanzibar City
The Hotel itself was a real treat with an excellent staff, good restaurants, Le Bleu Restaurant had very tasty seafood dishes, and clean bungalows positioned along a path decorated with palm trees and exotic flowers.
For us it was a normal, well wrong choosing of words, holiday but I could really suggest the Karafuu Hotel Beach Resort Zanzibar as a honeymoon travel destination because of the romantic feel to it.
We loved both our stay at the resort as the trips we made to Zanzibar City and other parts of the island. We will definitely return here on our next visit to Tanzania, in our eyes the pearl of Africa.