December 10th, 2010
This blog will serve as a short travel guide for my time in Bhutan as a backpacker back in 2009. Phuentsholing, a small town on the southern border was the first place I visited since I travelled from India which borders Bhutan in the south.
A Phichuentsholing Travel Guide might come in handy eventhough it is such a small town that you´ll probably stay here for just a few days or continue your journey to Thimphu, the capital city of Bhutan, directly.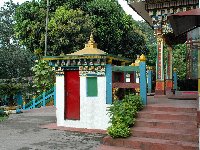 Where to go in Phuentsholing
The road which leads from Phuentsholing to Thimphu runs through the heart of the town and actually divides the countries of Bhutan and India in two leaving the Phuentsholing on one side of the road and the Indian town of Jaigaon on the other.
With the Phuentsholing entrance gate you´ll find your first tourist attraction as the gate is probably one of the most photgraphed features in town and clearly defines the spot where the hectic and loud Jaigaon makes way for a more quiet Phuentsholing at the foothills of the Himalayas.
But maybe this combination between great shopping and inner peace makes this border town and definately the more urban Bhutan such a fascinating stop on the way.
A nice hotel, comfortable and clean, for your sleepover in Phuentsholing would be the Lhaki Yangchak Hotel which had a friendly staff and good meals.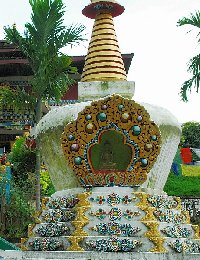 Where to go in Phuentsholing
I would also recommend visiting the 1967 built Kharbandi Goemba Monastery which is one of the tourist attractions and located just a few kilometers from Phuentsholing. The monastery is a real eye catcher with its colourful flags and beautiful paintings.