May 26th, 2011
Pinnawala is best known for its elephant orphanage and therefor a popular Kandy day trip destination. You could also visit from Colombo or travelling from one city to another since Pinnawala is located pretty much in between the two.
From Kandy it took me less than an hour to get there and travelling by public transportation you also get to enjoy the view and take in everything that is happening around you so time will fly while getting there.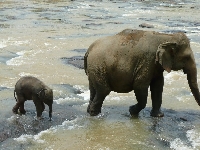 Travel Pinnawala
The elephant orphanage in Pinnawala is a must see for the elephant's ritual river bathing which is beautiful and especially the little tiny elephants holding onto their mothers tails are something special.
I added some pictures that I took during my visit to the orphanage which will be shown below in my picture gallery. After a visit to Pinnawala I continued my journey towards the Central Province of Sri Lanka where I would be visiting Nanu Oya known for its impressing water falls.