June 23rd, 2011
Together with my girlfriends I planned a city trip to Brussels to visit a college friend of us who moved to Belgium for her MA internship. We stayed in the city center at the Novotel Hotel which where we rented two rooms.
The only negative was the weather but we really loved Brussels and found it such a charming city with the beautiful medieval square called The Grand Place surrounded by old houses and the most lovely shops.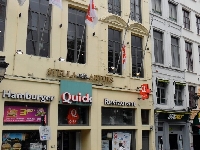 Where to go in City of Brussels
We also discouvered belgium chocolate at Leonidas a shop that has become a belgium landmark when it comes to bakeries and patisseries. Of course we visited the Manneke Pis statue another important landmark for Brussels simbolizing the freedom of spirit of the inhabitants and a funny way of decorating the city if you ask me:)
From Brussels we also visited some other places in Belgium like Bruges near the west coast and Antwerp near the border with The Netherlands but more about those trips next time.