September 19th, 2011
We had a fabulous stay in Montego Bay at the Riu Hotel. The hotel was perfectly located on the beach and within a short walk we could make it from our hotel room to the beach every morning.
I adored the towel swans created for us every morning and found it to be a real charm. Another plus was the minibar and the liquor corner as we called it! Besides the minibar there were a few bottles of local liquors like Jamaica Brandy and Old Tom Gin for us to enjoy, a very warm welcome;)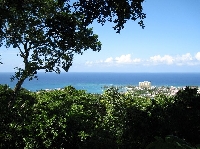 Tourism Montego Bay
Our booking was an allinclusive kind of package which is something me and my husband always prefer simply because you get to relax while on a holiday and not worry about where to eat out or have breakfast.
Jamaica is a beautiful travel destination for its great beaches and nice relaxed atmosphere. We had compaired the prices of different island destinations and decided to go with Montego Bay in the end.
We had a wonderful stay and did a lot of sightseeing and tours around the island departing from Montego Bay like the visit to the Bob Marley Mausoleum and our jungle trip to the Blue Lagoon. Also Dunn's River Falls near Ocho Rios can be considered a must see as these waterfalls attract a lot of visitors.