October 17th, 2011
Colombo is the capital city of Sri Lanka and on your trip you will most likely arrive here and maybe spend a few days of sightseeing.
On my journey to and through Sri Lanka I have tried to see and experience as much as possibile but of course you tend to visit the places that others recommend or have visited before you.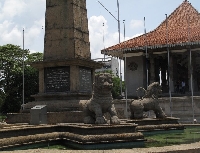 Trip to Colombo
Some of these places in and around Colombo will be the coastal area, the decorative Murugan Hindu temple ( this has become sort of a landmark for Colombo city and is one of the most photographed features), reminders of the colonial area like the Dutch Wolvendaal Church, Beira Lake with its pelicans and outlook over the Colombo skyline and like this there are many other places worth visiting.
In the past I had been to India several times and that has been the reason for my desire to explore Sri Lanka this time, simply to figure out what it is like and how these two countries differ between them.
First of all Sri Lanka is an island nation which has made its population very independent and there are less different cultural groups within the country. Other aspects like religion and respect are very important in both societies and like I had experienced in India the people were very interested and welcoming.
From Colombo I started travelling in northeastern direction and eventhough it has become a major tourist attraction I really wanted to visit the Pinnawala Elephant Orphanage so that would be an experience that I would recommend as well.