October 28th, 2011
For my 25th birthday I went bungee jumping at the Victoria Falls in Zimbabwe where me and my hubby spent an incredible holiday! The jump actually was a surprise gift and I was so nervous about it.
The jump itself was really scary but the rush running through your body afterwards will give you the real kick. I'm still unsure whether I would bungee jump again but it definately is something everyone has to do at least once in a lifetime!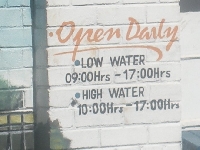 Travel Guide Victoria Falls
The 3 meters before jumping were the most terrifying of my life but the crew of the Bridge Cafe at the Victoria Falls was amazing and made me feel at ease. The views were the best thing and the Victoria Falls are so amazing, one of the most beautiful places in Zimbabwe.