June 12th, 2012
This June me and my husband enjoyed a great holiday in Spain where we started in Cordoba in the south where we visited some relatives and spend an amazing two weeks.
One activity that you should not miss during a stay in Cordoba is a visit to La Casa Andalusi because it's really special and you will be able to imagine how Cordoba was like many years ago.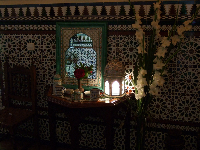 Trip to Cordoba
The Casa Andalusi brings all kinds of arts together and is a great way to learn more about the culture and history of the city.
For lunch and tapas head to Museo de la tapa y el Vino which has a great terrace where you can sit outside and have some sangria!