September 20th, 2013
Upon arrival at the Tarangire Treetops Lodge we were welcomed by the amazing staff with some fresh towels and we immediately felt at home.
The day could not have ended in a better way and after an exciting game drive with Elly we were guided to the boma area of the lodge. The boma is a beautiful fenced garden like space which had been built a short walk from the main reception area of Treetops to celebrate special dinner occasions.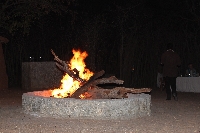 Camp fire at the boma of..
The wooden fenced area had a beautiful bon fire in the center and as we walked in the boma we could see these beautiful tables set for us to have dinner around the fire while we were greeted by the chefs, responsible for an abundant buffer dinner which was really good.
From steamed vegetables, rice, soup, home made bread to all kinds of meat and of course dessert, we were spoiled at Treetops from the start we checked in. We also got to meet our lovely waiter Nicholas who was a true delight to be around with his huge smile and impeccable service at all times!
During dinner a group of Masai women and men came walking in singing a traditional Masai song and all the guests were happily surprised when the group started performing their typical Masai jumping rituals while chanting. The women wore beautiful necklaces and performed a dance in front of the bon fire.
Everything was very well arranged and managers Johan and Lori really made something special of this Elewana collection property! The staff has a great connection with their guests and everybody was smiling all evening. A perfect night underneath the Tarangire stars, a great memory!