January 15th, 2010
Definitely the most weird bus ride I've experienced in my life! We left Vientiane from the Southern Region Bus Station and jumped on something that looked like a green emercency trooper loaded with bags of rice and card board boxes. Then I found out that Lao people prefer to keep their strangest luggage on board.
So there we were, sitting between bags of fish, toy cars and singing chickens on the road to Luang Prabang in the north central part of Laos.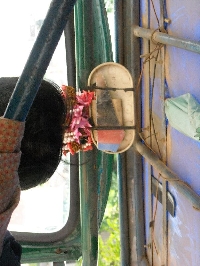 A tuk tuk to the bus station
Amongst the main touristic attractions in Laos would be the Buddha Garden on Phu Si Hill, also known as Chomsy Hill. From town you can follow the long stairs opposite the Royal Palace Museum which will lead you to a magic forest filled with golden Buddha's.
One of the most memorable statues for me would be The Saturday Buddha. This isn't the statue you pray to when you're looking for a good party on saturday night but resembles the Buddha to bring offerings if you're born on a saturday, just like there's a Buddha statue for all the other days of the week. Very practical!
Getting up the stairs local Lao people will try to sell you incense, flowers and even caged birds to offer in the Buddha garden. Once you have arrived you will see a small temple looking building where you can purchase the entrance fee to the garden for 20.000 KIP which is about 2 USD per person. With this ticket you can entre the That Chomsi Temple on top of the hill.
At the top of the hill you'll find many golden Buddha statues and even a footprint of the Man himself. I'm not sure what the sign reads but it seems something like Buddha's Foof. I guess replacing that last 'f' by a 't' you will get the word 'foot' but somehow I had a difficult moment here.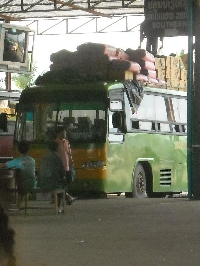 The bus at the station in..
From the hill you will have a great view of Luang Prabang town including the Mekong River and late at night the fantastic night market. Spending a sunset at the top of Phu Si Hill sure is amazing but be prepared to stand in line because the number of tourists is shocking.