January 15th, 2010
Every stay in Luang Prabang should include a day trip to the Pak Ou Buddha Caves. This Buddhist monastery was carved out of a giant limestone rock located in the waters near Pak Ou, at about an hour or two hours by boat from the Luang Prabang town centre.
The caves can be divided into a lower cave, the Tham Ting, and an upper cave, the Than Teung. The caves can only be accessed by boat and has been a sacred site of great value for Buddhist pelgrims through the years. Today also a lot of tourists visit the Buddha caves to learn more about the Lao culture and their impressive Buddhist statues which I found hard to number as they are literally thousands and thousands.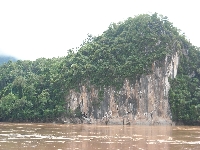 The caves on the Mekong..
You can arrange a day trip by long boat to the Pak Ou caves through any given tourist agency around town. Pak Ou is located not to far away from Luang Prabang but the journey has to be travelled up stream on the Mekong River.
Also at the Pak Ou caves you will see children trying to sell you incense or caged birds to honor the shrines. Buying a cage doesn't mean the animal has to die, one of the kids explaned, and you would actually buy the bird's freedom.