January 21st, 2010
During our visit to the Maya ruins in Tulum we got in contact with a group of tourists who went on a trip to the cenotes, the underwater caves of Tulum and highly recommended this tour so we decided to give it go. The next day we booked a tour with the Edventures tour operator they had been raving about.
The underwater caves are a popular attraction in this part of Mexico and a lot of tourists visit these amazing blue waters during a snorkeling trip. To get to the cenotes of Tulum we had to canoe up to the caves which was a lot of fun and the tour guide was really professional and kept filling us in on all kinds of interesting facts.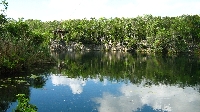 Day trip to the lagoon
Edventures Tours turned out to be a really great choice and our day was just wonderful. We did some cycling, canoed up the river, snorkeled the amazing blue waters of the underwater caves and even had fun cruising over the water on the zipline.
The snorkeling was such a beautiful experience and we even got to see some turtles in the open waters of the ocean. The crystal clear water of the cenotes and the stunning rock formations were just as magical and the whole day was just great. Terrific tour with a lot of activities and nice attractions. Add the end of the tour we even dined in one of the caves which was pretty amazing and the food was great too.
Perfect ending to a perfect day:)