February 10th, 2010
Santo Domingo, the capital of the Dominian Republic and over 9 hours away from Europe. During my holiday in Santo Domingo I stayed at the Gran Domincus Hotel which was an all inclusive resort and had all that I could ask for.
The Gran Dominicus hotel in Santo Domingo would also be a good option for families travelling with kids as they have all kinds of facilities and a miniclub with animation and games. The club also organizes events for couples or singles visiting the island.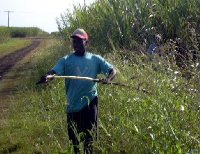 Locals in the sugar cane..
I went to the Dominican Republic for New Years Eve and it was great to celebrate the new year with temperatures around 28 and 29 degrees. The beaches were stunnning and I did some great snorkeling tours around the coral reefs which was really nice. I also took a quad tour around Santo Domingo and spinning around on these motors was pretty cool. We crossed through the sugar cane fields and through little villages on small unsealed roads and had a great time. We also met some locals which were really friendly.