February 19th, 2010
When we arrived in Santo Domingo, the capital of The Dominican Republic, the outside temperature was 38 degrees and right after we got out of the plane we could feel a hot summer air which seemed unreal for the month of March!
From the airport we headed to our hotel where we took a shower and prepared for dinner. After dinner we decided to try our luck at the local casino before heading to one of the bars to celebrate our well deserved holiday. After half an hour in the casino I already won my first jackpot after which we decided to go into town.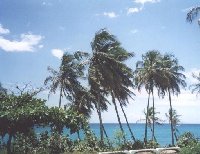 Taxi ride to Boca Chica..
Once we stepped out of the casino the local taxi drivers spotted us rightaway and started arguing about who was going to give us a ride while we tried to bargain our way through. Nothing in Santo Domingo has a set price and everything seems for sale, you just have to bargain for the right price.
The next day we went to the beach after a great breakfast with tropical fruit and shakes. We head to Boca Chica which is located about 15 chilometers from Santo Domingo and the closest beach because all the other bays have rocky cliffs and no stretches of sand.
The beach in Boca Chica is spectacular with beautiful white sand and crystal clear water, palm trees and bars, restaurants and shops on the beach.