February 18th, 2010
In july of 2005 I went on a motor trip to Croazia and it really was one of the best trips I've ever made. My journey started in Rome, my home town. From Rome I drove to the port of Ancona on a short coast to coast trip.
After boarding the beautiful SNAV catamaran in Ancona it took me three hours to reach Croazia where I arrived in the city of Zara.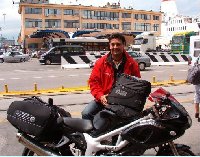 Travel Guide Murter
From here I continue my motor ride to the the Island of Murther which is a peninsula connected to the mailand by a mobile bridge, also known as the Tisno.
The Murter Island is a beautiful place with a very rich nature and hospitable people. At night there are many great restaurants on the island and for not too much money you will be able to enjoy some of the best seafood dishes.