March 23rd, 2010
I have been to Croazia and to be precise in the capital city of Zagreb where I stayed for a week with a group of friends.
You will find a lot of beautiful landscapes around Zagreb and it's a really lovely and romantic place to visit.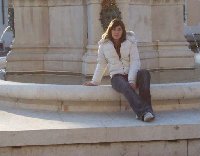 The Big Fountain of Ononfrio..
The people were also very nice and they have something facinating about them.
It would be a great destination for a romantic getaway or a short holiday. A week was enough to see a lot of the area but I hope to return one day to visit the city again.
I would recommend to rent a car because the public transportation network isn't always very reliable.