March 10th, 2010
During my stay in central Ukraine I had the chance to visit the mystic city of Kremenchuk, located in the Poltava Region.
It was mid winter and I really wasn't planning on visiting this part of the Ukraine but thanks to my bad Russian my driver who was supposed to bring me from Kiev to Poltava drove all the way up here.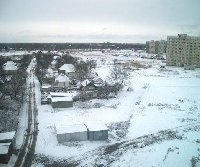 Photos of Kremenchuk,..
I remember looking out of the window and seeing this industrial city covered in snow. No cars, just snow and a lot of buildings. Outside the temperature must have been at least minus 25 but because of the almost absent humidity it felt a bit warmer.
The scenery was gorgeous as we drove through parks and forests on our way to Poltova and I spotted some beautiful churches and impressive buildings. The architecture was amazing and I didn't feel that awful about taking in a few extra hours around Kremenchuk.
Life itself in this part of the Ukraine is pretty convenient as the local Grivna can be favourable. I also liked the local cuisine which was quite a surprise!