March 14th, 2010
Puerto Rico is a beautiful country and a great place to travel to.
Especially in the capital of San Juan you will find a lot of interesting things to see and walking around the city you'll find yourself fascinated by the people, the nature and every single thing you come accross.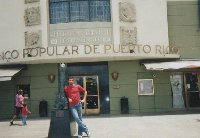 Photos of San Juan, Puerto..
Puerto Rico still has a lot of poor areas where you probably shouldn't go late at night, at least not by yourself.
I had the possibility to go to Puerto Rico for work as I work for the marine military and I always left my valuable things at the base.
During the day we did several touristic tours and excursions. There are also several shopping centres where you can pick up some nice souvenirs. At night we went dancing at one of the local clubs.