March 25th, 2010
I had an amazing holiday in Sharm el Sheik. It was my second time there and the beauty of the Red Sea with its beautiful coral reefs and colourful fish has not faded one bit!
Talking about fish makes me remember the amazing restaurants where you can order some of the best seafood dishes I've ever tasted!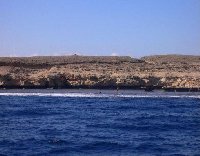 The Red Sea, Egypt.
From the sea you can easily pass to the rough landscapes of the desert and we decided to do so by booking an adventurous quad tour.
The tour was amazing and had the best time racing over the endless golden dunes.
Watching the sunset here sure is something different! Egypt is a great travel destination for the Easter holidays but it can get a bit cold during wintertime.